Autumnal Orb is the lead image for
Studio Sale 2015
Sat, Nov. 21 • 10 – 4 & Sun. Nov. 22 • 1-4
614 Macrae Road, Colchester, VT
Here is a sneak peak of how this limited edition print was made. I started with two printings of a linoleum block, printing first with yellow and then rotating the block and over printing with a Payne's Gray mix to get this.
I then inked and wiped two drypoint etching plates. One with orange ink and the other with a magenta.
I printed the orange etching plate first over the linoleum print…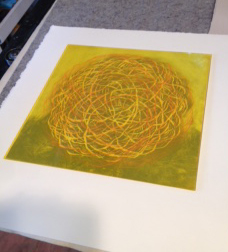 …and then the magenta plate to make the initial image on this blog. Then I repeated this process over 40 times to create a final edition of 35 limited edition prints.
Come out to the studio and see where the work is made and what I have been up to artistically for the last year.
Best, Carol